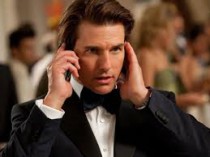 Not content with starring in two mega grossing franchises, It has been announced that Tom Cruise has signed up to star in the remake of the hugely successful nineteen sixties show The Man from UNCLE. Tom is set to play the part of Napoleon Solo originally made famous by actor Robert Vaughn. The part in the remake was originally earmarked for George Clooney being directed by Steven Soderbergh
Given his status at present, this is another step in Tom's bid for world domination. His stock is high at the moment. Mission Impossible 4 was massive with a fifth outing for the team arriving in the near future. More recently Jack Reacher proved to be both a critical and box office success virtually assuring the franchise's continuation.

The Man from UNCLE will be directed by Guy Ritchie, fresh off the success of the Sherlock Holmes films. No details are available on expected release dates or co-stars as yet. We await the inevitable news that Risky Business will get a sequel with the twist that Tom will play the prostitute role.
The cracking theme tune can be viewed below
Latest posts by John McArthur
(see all)