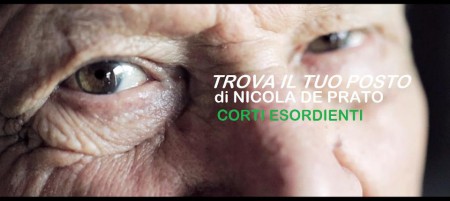 Film is the perfect medium for getting a message across. Used wisely and creatively, film can take you on a global journey or focus on the smallest detail. If done well it will fill you with wonder. If not you will soon forget it. A challenge for a film maker working on a feature-length project. An almost impossible task for a short film maker. A film that manages to capture the imagination and convey a very personal message is the 2012 short, Find Your Place from Italian film maker Nicola De Prato.
In a running time of one minute and forty three seconds the film tells of the narrators love of the city and its inhabitants. The city is a unique entity, made up of many individual elements. Some large, some small, all different. Into these elements we as people work, play, live and love. We take the city and make it what it is by filling it with our hopes and dreams. In a series of images the film maker shows just a small fraction of the things that make up daily life. We are confronted with the full cycle of life from the infant child to the old man. The child with it's smooth skin and large eyes represent our wonder and our striving for the answers. The old man with his world weary look and his wrinkled, weathered skin is the contrast to the child. In close ups we see that the man carries his history with him. Wonder and awe have been replaced by wisdom and contentment.  Ultimately we hope that we are part of a bigger picture and each person has a role to play. If we can find this then we will really feel like we belong.
The short is beautifully shot. Every image and sequence is set in bright sunshine, maximizing the beauty of the surroundings and the impact of the message. It is a very nice piece of editing to allow it to flow so well. There is a simple narration in a deep, even timbre over a very memorable piano led score by Mattia Cuttini.
Overall a little gem of a short film that is visually and aurally engrossing. Recommended.
the full film can be seen below. Please leave the film maker a comment if you liked it
FIND YOUR PLACE from Nicola De Prato on Vimeo.
Editor-in-Chief at Moviescramble. A Fan of all things cinematic with a love of Film Noir, Sci-Fi and Julia Roberts in Notting Hill. He hopes to grow up some day.
Latest posts by John McArthur (see all)