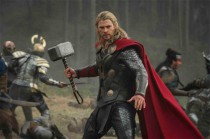 Fresh from his stint in Avengers Aseemble, the God of Thunder is back in his own movie.  Game of Thrones director Alan Taylor replaces Kenneth Brannagh and promises to bring some epic battles along with him. Although the trailer doesn't give much away in terms of plot, we are treated to a more (naturally) darker tone, much destruction and a glimpse of Christopher Eccleston's Malekith.
With Natalie Portman returning, it'll be interesting to watch Thor (Chris Hemsworth) explain why he didn't bother to go visit her during his last visit to Earth. Tom Hiddleston also returns as Loki though as an unlikely ally for his half-brother. He must be desperate indeed.
The film will be released this November.
Senior Editor at Moviescramble. Writer, filmmaker, friendly neighbourhood storyteller. Believes Jaws to be the greatest film ever made and will go down swinging with that belief.
Latest posts by Thomas Simpson (see all)