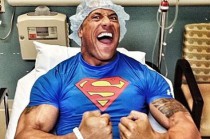 We at Moviescramble (well, me anyway) are big fans of Dwayne the Rock Johnson. A likeable character that has made the transition from professional wrestler to actor with relative ease. Sure Doom was awful, but it's hard to pin the entire blame on his massive shoulders for that one.
Despite being hot property in Hollywood, Johnson has still found time to enter the squared circle of the WWE on occasions. His most recent match at Wrestlemania, against fellow wrestler and actor John Cena, restulted in the Fast and Furious 6 star undergoing surgery on abdominal and hernia injuries. This caused him to miss the Los Angeles premiere for his new film Pain & Gain (also starring Mark Wahlberg) much to the fury of the movie's director Michael Bay. "He was pushing it too hard He needs to grow up and stop wrestling 300lb men," explained Bay, and although we wouldn't dare being as cheeky to the massive actor, he has a point. Johnson is an accomplished ring performer who has done all he can in the company that made him a star, at 40 years old isn't it time he gave his body a rest?
When asked by New York radio host Peter Rosenberg if the Cena bout would be his last he replied ," Possibly. I'm really not too sure and I wouldn't rule it out." With a proposed match at next years Wrestlemania against Brock Lesnar on the cards, the Rock may not be taking Bay's advice anytime soon.
Source: The Sun
Latest posts by Thomas Simpson
(see all)