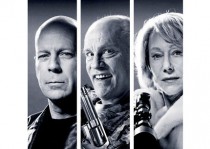 Back for another spy caper are the team behind the hit 2011 film RED. All the gang, except for Morgan Freeman who failed to make it to the end credits, return for the next adventure. This time the geriatric team are on the hunt for a next Gen weapon. The trail leads to London, Paris and Moscow as Bruce and Co. try to outwit the assassins on their trail.
Although the first film got a bit of a pasting from the critical community it proved to be a hit with international audiences to such an extent that a sequel was green lit last year. The imaginatively titled RED 2 promises to be more of the same light-hearted action fayre as it's predecessor. Lets face it it will be watchable for John Malkovich alone.
RED 2 is out on 19th July in the US and 2nd August in the UK.
Latest posts by John McArthur
(see all)