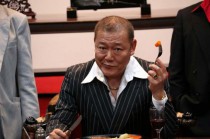 While browsing through the internet I came across this little gem of a trailer for the forthcoming film by Japanese director Sion Sono.
Who? I hear you say. To be honest I had never heard of him either before I caught the trailer even though he has over thirty directing credits to his name and is well regarded internationally for his challenging films and poetry.
The trailer is the maddest thing I have seen in a while. I do not pretend to understand anything that is going on but it looks spectacular. Anger, sword fighting and a river of blood all add up to a film that Tarantino wished he had the balls to make. The story is based around a group of people who are linked only through hatred and that hatred is the thing that will eventually lead to the most bloody of confrontations.
Why Don't You Play in Hell? is released on 23rd September 2013
Editor-in-Chief at Moviescramble. A Fan of all things cinematic with a love of Film Noir, Sci-Fi and Julia Roberts in Notting Hill. He hopes to grow up some day.
Latest posts by John McArthur (see all)