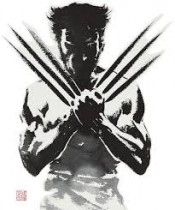 Premiered at CinemaCon recently is the latest trailer for the Hugh Jackman film The Wolverine. This second stand alone movie centering on most people's favourite X-Men character, Logan. From the Twentieth Century fox publicity we get the following.  In modern day Japan, Wolverine is out of his depth in an unknown world as he faces his ultimate nemesis in a life-or-death battle that will leave him forever changed. Vulnerable for the first time and pushed to his physical and emotional limits, he confronts not only lethal samurai steel but also his inner struggle against his own immortality, emerging more powerful than we have ever seen him before.
After Darren Aronofsky bowed out of the project the film was passed to director James Mangold, known most recently for the Tom Cruise action film Knight and Day.  From the trailer it's certainly looks impressive enough. A lot of action is crammed into the short trailer which raises the hope that The Wolverine will perhaps be a little better than Logan's previous solo outing.
The Wolverine is out everywhere from 26th July.
Editor-in-Chief at Moviescramble. A Fan of all things cinematic with a love of Film Noir, Sci-Fi and Julia Roberts in Notting Hill. He hopes to grow up some day.
Latest posts by John McArthur (see all)