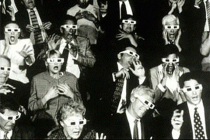 Someone round here got very lucky and managed to get an invite to a preview screening of Star Trek into Darkness. A review will follow soon but I wanted to issue a warning to all our Moviescramble readers.
GO SEE THIS FILM IN 2D.

Seriously! The Post-conversion to 3D is eye-jarring and headache inducing.
Don't say I didn't warn you!
Writer at Moviescramble. Master of the Yorkshire Martial Art of Ecky Thump. When he is not being a Dad or office slave he loves nothing more than watching dodgy super-hero movies or fake historical dramas with excessive nudity.

Lives 'down under' now so also enjoys getting stereo-typed as Butlers and White Imperialists when treading the boards.
Latest posts by Jason Ayers (see all)