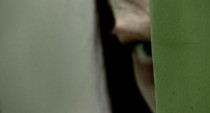 Whatever Happened to Harry Fish might not be the most terrifying name for a horror film, however from what footage we've seen, it's certainly hitting all the right notes for the genre.
The film tells the story of Harry Fish, an insomniac who is tormented by an evil spirit. Harry's sanity starts to spiral downwards as he attempts to understand why the ghost is haunting him, discovering some sinister home truths of his own.
"I am a massive Horror fan," director Gary J Hewitt tells us. "Not the bloody gore type, but the spooky creepy type."
This is evident in the trailer as Hewitt carves into the psyche of his protagonist by presenting an array of disturbing scenes that are truly horrific. What stands out most is how good the film looks, especially for a no budget feature. "We had no external funding," Gary explains, "instead of spending my pennies on partying at the weekend I was spending them on Props and equipment etc."
Clearly passionate about his work the 24 year old director has ambitious plans for his first feature. "We will push this film far and wide. We are pushing for the big screen, We want this film in film festivals and hopefully a deal will be made. We have a lot of faith in the project."
Filmed in Scotland, the trailer can be viewed below.
Latest posts by Thomas Simpson
(see all)