The original Clerks, in my opinion, is a classic. It showed how a great script will excuse poor technical production and what is achievable for a filmmaker on a modest budget. Although I enjoyed the sequel, the glossier look and big name cast appeared to negate what made the first one so appealing. It also felt like Dante and Randal had their day already.
Therefore news that writer/director Kevin Smith has completed a first draft of Clerks III leaves me with mixed emotions. Sharing the news on his Facebook page, Smith states that he is "SO in love" with the script and that "it plays like THE EMPIRE STRIKES BACK of what's now become the Clerks Trilogy."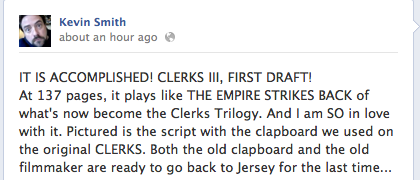 Much has changed since the original was released in 1994 so it'll be interesting to see if Smith can adapt Dante and Randal to the modern generation or will they come across as sad 40 year olds telling dick jokes.
I hope it's the former, but at this early stage, I'll be approaching this one with caution. 

Latest posts by Thomas Simpson
(see all)