It's not uncommon for a film series to deteriorate in quality by the time it gets to the fifth instalment. Usually by then all the big stars are absent and the DVD is going straight to the supermarket bargain bin.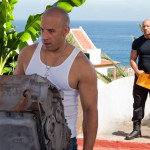 Not so with the Fast and the Furious franchise. Not only did Fast 5 feature the original actors it also starred Dwayne "the Rock" Johnson, a key player in the modern generation of action heroes. It raked it in at the box office and was received most favourably by critics than the previous efforts. This would make a sixth film inevitable, but could it live up its own expectations?
After securing 100 million dollars, Dominic Toretto (Vin Diesel) and his crew have decided to retire. Life is good for Toretto who has settled down in his own private paradise with Elena (Elsa Pataky). A surprise visit from DSS agent and former adversary Luke Hobbs (Johnson) brings with it some shocking news. Letty (Michelle Rodriguez) who was believed dead, is not only alive and well but is hanging out with a new crew led by former British Special Forces soldier, and all round bad guy, Owen Shaw (Luke Evans). Hobbs not only wants Torreto's help to bring down Shaw he also wants assistance from his team who agree to help in exchange for pardons.
The film starts as it means to go on, at 100 miles per hour. Opening with a high octane race that sets the mood with the film barely letting up for its 130 minute runtime. The fast paced set pieces are handled brilliantly by director Justin Lin who does his best to ensure that the audience can actually see the action take place. In the modern world of fast cuts and low attention spans, it would be easy for the film to become a muddled mess much like Transformers 2. It may be difficult to keep up with who's in which car and what street their on, so it's best not to focus on such details. I know nothing about cars so I was relieved that little time was spent discussing what the cars could do with the script allowing the vehicles to talk for themselves.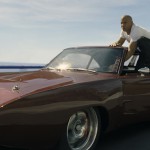 The cast play their parts well with the highlight for me being Ludacris and Tyrese Gibson. Both men have a great comedic chemistry that succeeds in adding to the overall fun vibe of the movie. Diesel and Johnson bring the testosterone and have enough one liners between them to make the cast of the Expendables proud. Old school fans of professional wrestling will also get a kick out of their improvised homage to the Legion of Doom.
The film's failings are not unsurprisingly it's story. The MacGuffin takes the form of the Nightshade device which can disable the power in an entire region. Shaw hopes to acquire all the necessary components so he can sell it to the highest bidder. It's a forgettable plot device but that's fine, it serves its purpose. What was a little harder to digest though was Letty's reappearance. Not only did she survive the events of Fast & Furious, she is suffering from amnesia and has no idea who her old friends are. It detracts from an otherwise straightforward plot and appears to serve no other reason than reintroduce Rodriguez to the franchise.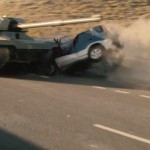 The film is not without its flaws, however it does what it says on the tin. Needless to say if you go see Fast & Furious 6 and are disappointed with the content on offer, them chances are the previous films weren't for you either. The set pieces are ridiculous however suspend disbelief and what you end up with is over 2 hours of high octane cinema. It won't be the best written, directed or acted film you'll see this summer but it might just be the most fun. I can't think of any film series were the 6th instalment is the best, but this franchise manages it.
And don't rush out the door too quickly when the credits roll. A mid credit sequence teases what is in store for the Fast & Furious 7 which already has a release date for July 11th of next year. And personally, I can't wait.
Latest posts by Thomas Simpson
(see all)