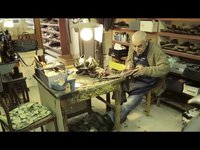 It is feat of imagination in the way that a film maker can take what appears to be the most mundane and repetitive of subjects and makes you view it from a completely different angle. For the subject of his newest short film Nicola De Prato has chosen the humble shoe repairer and turned his job into something rather unique.
For the shoemaker, Pancrazio, he does not see his job simply as furnishing customers with soles and heels. in his own way he helps to give them adventure. Carrying out a task for over fifty years takes more than an enjoyment of the job. It turns into a passion. As he says at the start he had to work from an early age. Adventure and travel were not an option for Pancrazio so instead he travelled by the repairing of the shoes. As if by osmosis he was able to travel in his mind to the far reaches of the world.
The other aspect of his work is the ability to breathe life into something seemingly redundant and spent. What he does is more than just a repair. It is giving another chance to something that has been cherished until it enters disrepair. In these times where we live in a disposable culture the message is clear. If you look after something you love and treat it with the respect it is due then it can last you a lifetime.
This is another triumph for Nicola and his team. On a running time of two minutes and fifteen seconds the film maker is able to tell a full story and present us with some fascinating and quite frankly beautiful visuals. Shot within the confines of Pancrazio's workshop we are treated to close ups of the man at work and his surroundings. It is edited with care and attention to detail. It is as if every piece has a story to tell on its own. Everything is functional yet seems to form part of who the shoemaker actually is. The film flows very well with no wasted shots or jarring edits.
As with Nicola's previous film, Find your Place  (reviewed here) we get a voice over from Marco Fumarola. His rich and deep tones lend an air of class to the proceedings. The dialogue is always touching and poignant without being cheesy. It fits very well with the visuals and feels very natural.
Overall another triumph for the very talented director Nicola De Prato. Highly recommended.
The full film can be viewed below. You can find more of the directors work at https://vimeo.com/nicoladeprato
Pancrazio // Shoemaker from Nicola De Prato on Vimeo.
Latest posts by John McArthur
(see all)