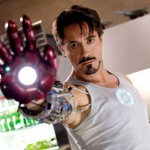 Marvel have ended the speculation surrounding Robert Downey Jr.'s future as Iron Man by securing him to a two picture deal. Don't expect Iron Man 4 however as the star has signed up for The Avengers 2 and The Avengers 3.
The last two Marvel films Downey Jr has starred in (The Avengers and Iron Man 3) have collectively made over 2.7 billion USD. With The Avengers 2 not even began filming yet, the news echoes Sony announcing two additional The Amazing Spider-Man films to be released (not counting the second one) in 2016 and 2018.
Are the studios getting too ahead of themselves or do you think the superhero genre has enough life in it to take us to the end, or even into the next, decade?
Source: Marvel.com
Senior Editor at Moviescramble. Writer, filmmaker, friendly neighbourhood storyteller. Believes Jaws to be the greatest film ever made and will go down swinging with that belief.
Latest posts by Thomas Simpson (see all)