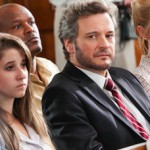 In 1993 West Memphis Arkansas was shaken to its core when three young boys were found brutally murdered in the woods. A year later, three teenagers were convicted of the crime with their supposed ring leader, Damien Echols, being sentenced to death.
Much controversy surrounded the case with the guilt of the three young men being brought into question, most famously by the Paradise Lost documentaries by Joe Berlinger and Bruce Sinofsky. The evidence appeared circumstantial at best with the defence believing that the boys were targeted because they stood out as being different in a small town that demanded justice.  Many celebrities such as johnny Depp and Pearl Jam's Eddie Vedder spoke publicly of their belief that the boys were innocent and campaigned for their release until *spoiler alert*  it was eventually granted in 2011.
Devil's Knot is a dramatisation of a story known by many and forgotten by few. Based on the book Devil's Knot: The True Story of the West Memphis Three, the film by Atom Egoyan will prove to be of particular interest to those familiar with the aforementioned documentaries.  Whether it will deliver the same emotional punch as its real life counterparts remains to be seen, however it is a compelling and harrowing tale that often split opinion.
Starring Colin Firth and Reese Witherspoon, the film is due for release early next year.
Latest posts by Thomas Simpson
(see all)