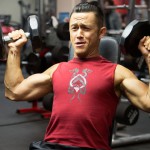 Romantic comedies can become stale very quickly. For every Silver Linings Playbook that breathes new life into the genre we're subjected to a million films of the standard of The Bounty Hunter. The same can be said for most genres (horror I'm looking at you) but I'm picking on romantic comedies for two reasons. One, it's a genre that sees the self mutilation of my eyeballs as a more pleasing alternative, and two, it's the subject of Joseph Gordon-Levitt's directorial debut Don Jon.
Modern day Don Juan, Jon Martello (Gordon-Levitt), has a simple list of things he cares about in his life. They are "my body, my pad, my ride, my family, my church, my boys, my girls." And despite being a very successfull Lothario, Jon enjoys something a lot more than his string of sexual encounters…his porn. He makes no apologies for it as he justifies to the audience why he prefers it over real life. When he meets Barbara Sugarman (Scarlett Johansson) he finds he's surprisingly unable to talk her into bed, a novelty in Jon's world. This makes him question whether the reason he prefers porn over one night stands is that he needs someone to love that will fulfill his desires. He believes Barbara is the person to change him however is she the dream girl he's looking for and can he stop watching porn? Does he even want to?
Christopher Nolan advised Gordon-Levitt against starring and directing (he also wrote it) for fear that he may find it too much of a burden. If he did, it does not show on screen. He portrays Jon as self assured and full of confidence yet allows chinks in the armour to show that deep inside there's an emotionally fractured individual. Not that this is a dark broody affair of the human soul, instead it's a lighthearted approach to a serious issue that invites you to laugh at the character yet ultimately sympathise with him.
Johansson is brilliant as the love filled Barbara. A girl who puts as much faith in the unrealistic expectations of chick flicks as Jon does
porn. Anne Hatthaway and Channing Tatum make surprise and comical cameos as the lead actors in a horrendous looking romantic movie that Jon and Barbara go see.
The introduction of the emotionally unstable Esther (Julianne Moore) into the third act alters the landscape. A class mate of Jon (who starts going to night school at Barbara's request), she adds a sombre tone to proceedings which is balanced out perfectly with a likeable and witty character. From catching Jon watching porn on his phone to offering him a skin flick on DVD as a present, she excels in her role as the stereotypical third party romantic interest.
Sitting in the director's chair for his first feature, Gordon-Levitt handles the content of the film like a seasoned pro. He knows when to insert the laughs (of which there's a lot of) and he knows when to reign them in. The film may be riddled with the usual cliches that affect the genre, however a freshness permeates throughout which gives it the edge against it's contemporaries. There's even a small homage made to 500 Days of Summer which Gordon-Levitt also starred in. It may be a romantic comedy but I'd advise couples going to see it on date night, especially those in the early stages of their relationship.
Heartwarming, genuine and with enough uncomfortable humour that we may (or ahem, may not) relate too, Don Jon is a romantic comedy that's aimed as much at guys as it is their girlfriends and wives, if not more so. Gordon-Levitt continues to prove to us all how incredibly talented he is as an actor and now he can add writer and director to his bow. At only 32 years of age, the baby faced star hopefully has a long and successfull future ahead of him. We may only be seeing the beginning of his potential.
Latest posts by Thomas Simpson
(see all)