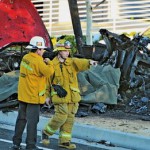 Hollywood actor Paul Walker has been killed in a car crash in California. The 40 year old actor is said to have been the passenger in a friend's car when the vehicle hit a lamp post. The driver also lost his life.
His publicist updated his Facebook page with the following statement.
"It is with a truly heavy heart that we must confirm that Paul Walker passed away today in a tragic car accident while attending a charity event for his organisation Reach Out Worldwide. He was a passenger in a friend's car, in which both lost their lives. We… are stunned and saddened beyond belief by this news."

Universal studios also released a statement.
"Paul was truly one of the most beloved and respected members of our studio family for 14 years, and this loss is devastating to us, to everyone involved with the Fast & Furious films, and to countless fans. We send our deepest and most sincere condolences to Paul's family"
Walker is perhaps best known for portraying Brian O'Connor in the Fast & Furious franchise.
Latest posts by Thomas Simpson
(see all)