There are some film that are instantly quotable. You can sit with a friend and recite lines all day long and laugh more than you did when you originally heard them. If you haven't seen the film, such behaviour can be irritating and if that film happens to be Anchorman: The Legend of Ron Burgundy, then the blame lies at your door. Nine years later and Ron (Will Ferrell) is back with his idiotic, sexist and unashamedly racist news team for Anchorman 2: The Legend Continues. Belated sequels to popular films tend not to end well so do the Channel 4 News team still have the killer quips and great hair?
The 70's are over and the 80's has Ron and his now wife Veronica Corningstone  (Christina Applegate)  working as co-anchors for a New York news station. It's not all rosy however as their boss and legendary anchor Mack Harken (Harrison Ford) decides to promote Veronica while firing Ron for…well, you can imagine. Depressed and suicidal, Ron is offered a job for a revolutionary 24 hour news channel and decides its time to get the band back together. With Brian Fantana (Paul Rudd) a successful pussy photographer, Champ Kind (David Koechner) the owner of a fried "chicken" franchise and Brick's Tamland (Steve Carell) dead; the gang decide to put faith in their old friend and leave their new lives (and death) behind. However it's a different world and time the boys are returning to, with Ron struggling to come to terms with having a black female boss (Meagan Good) and his wife's new, potentially pyschic, lover (Greg Kinnear).

Maybe we should just get this out of the road to begin with. The sequel is not better than the original but it gives it a damn good try. The film takes a few minutes to really warm up and once it does, the jokes flow and the laughs follow. The boat is pushed out just that little bit farther than last time and the cast look like they're having a ball. The plot treads little new ground but it's not overly important. The film works best when the dialogue feels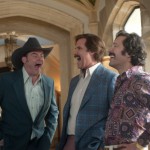 improvised and for the most part it probably is. The chemistry between the cast is evident however it feels that the supporting characters take more of a backseat this time round. Burgundy is always going to be the focus however there are times when you're looking for one of the old team to enter the scene and give him someone to bounce off of. The newcomers, such as the hotshot Prince of the newsroom (James Marsden) and adorable but Brick-like Chani (Kristen Wiig), more than hold their own while Meagan Good's Linda Jackson was so effective that I was rooting for her instead of Veronica to be with Ron. Even Harrison Ford shrugs off the grumpy old man persona that plagues him in real life with his creepy and hard-ass performance that culminates in a crazy twist that comes so far out of left field that if someone tells you they saw it coming, they lied.
One of the film's biggest flaws is it's running time. Clocking in at 119 minutes it's almost half an hour longer than its predecessor. Although it doesn't drag, at one point I became aware of how long was left to go and started to get a little fidgety. There is a slight lull as we enter the third act when the jokes are substituted for heartfelt sentiment. Just as I thought it was losing its way though, it came fighting back with an explosive star studded finale. With the added surreal humour that accompanied it I started to question if the melodramatic scenes were nothing but a set up to for the absurd and hilarious climax.
Nine years passed between the films but in fairness it doesn't feel like it. Anchorman 2 never feels like a forced cash-in wiling to ride the coattails of the original. It's unlikey to appeal to those that disliked the first one but returning fans should enjoy what's on offer. It may not be bigger or better but the legend definitely continues.
Latest posts by Thomas Simpson
(see all)