Did you have an imaginary friend when you were a child? It was a friend that was always there for you no matter what and most importantly one you could transfer the blame to when you were caught misbehaving. If you did, chances are you saw less and less of that friend as you got older. What would happen though if that friend reappeared in your adult life? You would probably think you were losing your mind. Or even worse, what if that friend was real?
Elizabeth (Phoebe Cates) is not having a good day. In the space of one lunch hour she loses her purse, her car and her husband Charles (Tim Matheson). Proving bad things come in more than threes, she is then fired from her job. Her life in disarray Elizabeth's mother (Marsha Mason) re-enters her life and assumes control of it. Back in her childhood room she unexpectedly releases a remnant from her childhood, her imaginary friend Drop Dead Fred (Rik Mayall). Fred is aghast that Elizabeth has grown up and is still interested in causing as much childish malevolent mayhem as he can while pinning the blame on Elizabeth. She is only interested in getting back her husband however which coaxes Fred into helping her as he reveals that he can't get home until she's happy in her life. Can Fred's brand of cartoon violence adapt to the world of responsible adults or will he just drive Elizabeth to the asylum?

Drop Dead Fred is an interesting take on the buddy movie. The traditional framework is there, the straight laced sensible one (Elizabeth) teamed up with the zany risk taking maverick (Fred) but it adds a different dimension to proceedings when the rest of the characters can only see one of them. This lends much to the film's appeal and humour. Fred is not shy in revealing himself to Elizabeth in public, forcing her to have blazing arguments with herself and appear that he is causing havoc, such as smashing glasses in a busy restaurant. Cates does well in assuming the role of the straight man (or woman) while simultaneously having to portray elements of the whacky sidekick. Her Elizabeth feels very much a grownup however is unaware at how much everyone in her life treats her like a child. Is it no wonder she still sees her imaginary friend?
Mayall's performance is flawless and everything you would expect from anyone familiar with his work. He is overstated in his actions and appearance however shows flashes of sentimentality and maturity which leads to the film's conclusion. Fred is what Elizabeth needs in her life and while appearing at the opposite end of the spectrum with his contrasting personality, he balances out his friend's own psyche while nurturing it.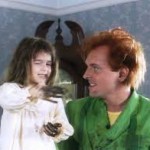 Despite coming across as children's comedy, adult humour is prominent with darker themes prevalent throughout. Director Ate de Jong presents a colourful adolescent fantasy in style however the script reveals a dolorous subtext involving abuse, bullying and repressed emotions. There is no dubiety in Fred's existence however there are some suggestions thrown in that support an argument that his existence is influenced by Elizabeth's own subconscious. It's no coincidence that Elizabeth's father (Daniel Gerroll) is the only other English actor in the movie other than Fred and that both of them take her side over her mother's emotionally crushing parenting.
The film was generally well received by audiences upon release however was mostly savaged by critics. Despite the negative reaction it was Working Title's first financial hit and was (for a time) the most successful independent film ever released in Australia.
It's not without its flaws and some of the visual effects have dated however the core of the story is timeless and one most people may relate to. A remake starring Russell Brand has been in the works for a few years now but it's doubtful it'll earn the same cult following Ate de Jong's film has.
Latest posts by Thomas Simpson
(see all)