It's always good to hear of a success story, especially one that happens against the odds. The short film About the resistance looks at what it took to create a film festival out of nothing. A like-minded collection of artists from all around the world worked together to create a film event that everyone could enjoy.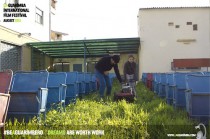 In the small southern Italian town of Amantea the team took an old outdoor cinema and renovated it for the purpose of putting on La Guarimba Film festival. The result was a rather special nine hundred seat venue that was a unique venue to watch the submissions to the festival.
The short film gives an insight into the work that was undertaken in getting the project off the ground. Their philosophy was straightforward. Build something special and people will come to enjoy films and build a sense of community. Ignoring the negative comments and being told that they were wasting their time they used their skill and passion they managed to pull it of. One of my favourite scenes is during a tidy up where the grass is raked up. It isn't often that you will see that in a cinema.
The festival is going from strength to strength with submissions being accepted for the 2014 festival and the organisers currently touring and promoting the festival which opens in August.  Have a look at the video courtesy of Vimeo and check them out on Facebook and twitter.
About the resistance (TEASER) – La Guarimba International Film Festival from La Guarimba Film Festival on Vimeo.
Latest posts by John McArthur
(see all)