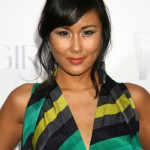 Information for the upcoming reboot of Jonathan Liebesman's Teenage Mutant Ninja Turtles continues to surface and although the latest rumour is yet to be confirmed, the evidence is strong.
Cosmic Book News believe that the Idle Hands review of the film's new Lego set proves that Shredder's daughter Karai will feature in the film.
As reported by Idle Hands:

"There was a sort of pick-up truck in the set next to a building. Driving the truck was a Foot Soldier and in the back, manning a gun, was Karai, Shredder's daughter."
They explain that they don't believe that the toys were for the animated series as Raphael matched the look of the recent images that were leaked online. Photography of the Lego sets was not permitted.
Internet speculation already cast Minae Noji for the part when it was announced she had joined the project, albeit it in a "secret role." IMDB also has her listed as playing the character.
Produced by Michael Bay, Teenage Mutant Ninja Turtles has a release date for August 8th 2014. The film will star Megan Fox as April O'Neil, William Fichtner as Shredder, Pete Ploszek as Leonardo, Alan Ritchson as Raphael, Jeremy Howard as Donatello, Noel Fisher as Michelangelo, Will Arnett as Venon Fenwick, and Whoopi Goldberg as Bernadette Thompson.
Latest posts by Thomas Simpson
(see all)