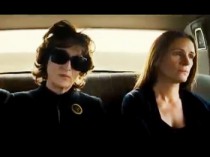 As the old saying goes, you can choose your friends but you can't choose your family. How many of us have sat at a party or round a dinner table and wondered just what on earth we did to deserve being related to the collective catastrophe we find ourselves being surrounded by?
The film centres on the dysfunctional Weston family, who have done all they can to escape the clutches of the chaotic Oklahoma house they were raised in until the suicide of their patriarch brings them back to the homestead. It is hot, tense and miserable. Matriarch Violet is dying of mouth cancer. Her three daughters can barely stand to be in her company. Her sister is just as overbearing as she is. The tagline for this film is "Misery loves family" and, my goodness, it really does love the Westons.
Based on Tracy Letts' play of the same name, the film's beauty lies in its mirroring of the frenetic nature of family life. It's so easy to be in the middle of a screaming argument one minute only to find yourself crying with laughter in the next. His screenplay leans on this wonderfully, with its quick fire moments of insults-laughter-heartache-joy. And they are punctuated exactly like that; so fast and so fused.
The setting of August: Osage County is also intriguing. Despite the twanging Southern tones, homemade apple pies and country and western records, the Weston home isn't exactly Little House on the Prairie. The mystical Southern plains that sprawl for miles and seem to lead to everywhere and nowhere are a crude metaphor for the Weston family. Stretched across several states yet ultimately bound to the run-down farmhouse. Each of their lives seem to be at a "crossroads", as it were, in the aftermath of the funeral. They could go anywhere, they could go nowhere. They could make a change, they could continue down the unhappy little path they've already constructed for themselves.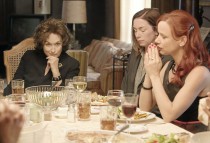 There really isn't a single bad performance. It truly is an ensemble cast. From the formidable powerhouse that is Meryl Streep as Violet to the gentle and understated Chris Cooper as Charles, each actor gives an equally potent depiction of a family struggling to come to terms with its past, its present and what its future may be. As Streep unleashed yet another torrent of blunt and hurtful "truth telling" I felt the need to sit up straight in my seat and smooth out my clothes for fear of being next in the firing line. She gives a stunning portrayal of a dying woman, haunted by her past and prior behaviour, terrified at being left to die alone, angry that her husband should have chosen to go first. Aware that her power over her family is fading faster with each pill she takes, she is another tormented Southern soul that Hollywood is so fond of giving us. She is a fascinating character: bitter, mournful, scared, angry, in need of love and ultimately hell-bent of self-destruction. And we love witnessing destruction. It's no surprise that Little Charles (Benedict Cumberbatch) and Ivy (Julianne Nicholson) find themselves watching Judge Judy – they're probably looking for reassurance. We need to know that someone else out there is having just as bad a time of it as we are.
Julia Roberts is equally as stubborn and emotionally fragile as eldest daughter Barbara. It's no surprise these two women have been Oscar nominated. The suggestion that she is becoming her mother frightens her. Torn apart with familial guilt and the breakdown of her marriage, she lashes out in a spectacular fight over dinner that sees the two women go head-to-head. (Or should that be fist-to-head?) She certainly gives as good as she gets.
The most provocative suggestion in the film is that the pattern of abuse, verbal attacks and cold, unfeeling love may be about to continue. Violet is unable to show love to her daughters because her mother was cruel and mocking. In turn, they all seek love in the wrong places. They don't know how to love and be loved because they have never been shown. Everyone promises to do it differently from their parents but there seems to be no escape from this unyielding Weston family trait of misery and failings. This is particularly evident in Karen (Juliette Lewis) desperately convincing herself that she and her thrice-married poseur boyfriend (Dermot Mulroney) will live happily ever after.
Family, it would seem, is a terrifying prospect. So many lies and feuds and secrets; so much joy, laughter and memories. You either want to kill each other or kill for each other. It is the ultimate love/hate relationship. The relatively open ending of August: Osage County – who knows what awaits the Weston sisters in the future – is both exciting and frightening. They could go anywhere, they could go nowhere.
Latest posts by Mary Palmer
(see all)