The Glasgow Film Festival returns this year bigger and better than ever. In the ten years of its existence the festival has blossomed from small beginnings to the multi faceted event that we have today. It has now become a serious contender to the more established film festival held in Edinburgh in June. You only need to look at the films that bookend the festival to see how far it has come.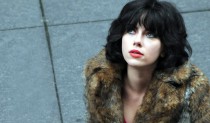 The opening gala film is the UK premiere of the much-anticipated new Wes Anderson film. With an all-star cast, The Grand Budapest Hotel is shaping up to be one of the best films of the year and a welcome return for all fans of the quirky cinema of Mr Anderson. Set in one of the top European hotels during the period between the wars the plot revolves around a scandal involving the ownership of a famous painting and how the hotel manager is trying to contain the situation before it becomes an international incident. At the other end of the festival the closing film is the new film from cult director Jonathan Glazer. Under The Skin stars Scarlett Johansson as an alien in human form who picks up hitch hikers in order to fatten them up for transport to her home planet as a rare delicacy.
The festival is organised into sixteen strands that cover a multitude of film styles, origins and history. Of particular note is the Hooray for Hollywood strand that takes a look at some of the films released in 1939. Widely regarded as the greatest year for film releases, there will be a series of screenings and discussions around the subject. Another strand of note is the Events & Pop up cinema. This gives the viewer a chance to experience some iconic films in unusual and dramatic places. Ranging from screenings at the Briggait of films with a food theme to showings of the Wong Kar Wai film In the mood for love at a Chinese grocery warehouse and Young Frankenstein at the Kelvingrove Art gallery there is something to pique the interest of almost everyone.
Of course there are far too many events and shows to list here so the best idea is to go to the GFF site  for the full online program and all the festival news and updates. The Glasgow Film Festival runs from the 20th of February until the 2nd of March.
Latest posts by John McArthur
(see all)