Loneliness and isolation must be one of the most crushing of human experiences. To feel that you are entirely alone in a city full of people; that you seem to be tuned to a different frequency from everyone else. It is said that this generation are suffering the most – neighbours no longer feel like they know each other. Millions of doors shut in millions of apartment blocks all over the world, locking their inhabitants in only to bind them to one screen or another. And yet, this seems to be a choice. A preference, even. But for those who have no choice, and are alienated from society through mental illness or a lack of family, is there a greater anguish than the yearning to feel connected and loved?
The Girl From The Wardrobe marks the debut of Polish writer/director Bodo Kox. His deeply personal and insightful depiction of solitude takes a microcosm within contemporary Warsaw and uses it to reflect issues facing wider society. This film is definitely more black than comedy, and raises many good points regarding help for carers, mental health and isolation in old age. With these themes at its heart, the film could be set in any city in any language. However, the grim and snow-sprayed Warsaw backdrop lends itself well to the equally bleak subject matter. The plethora of high-rise tower blocks pepper the city, full of people living their everyday life, going through their own personal troubles.
Jacek (Piotr Glowaki, familiar to Polish film fans from Agnieszka Holland's In Darkness) is a website designer, working from home so he can look after his brother Tomek (Wojciech Mecwaldowski) who is an autistic savant. He lives his life through the internet, having erratic sexual relationships with any woman who will entertain him. His responsibility for his brother leaves him no time to find real, meaningful love. Tomek's inability to communicate beyond repeating a few phrases from TV programmes or banging his head against the door leaves Jacek isolated and frustrated. His bed-hopping initially comes across as irresponsible and callous, but it is slowly revealed to be borne from a real desire to love and be loved.
Mecwaldowski's portrayal of autism is achingly brilliant. At times, he seems to stare at his brother so lovingly and, in other instances, he is cruelly trapped in a world of silence and frustration. He captures the innocence so often found in adults with autism and does so in a way that is highly emotional and respectful of the condition. His love of being up on the roof – where he imagines a huge passing blimp – clearly links back to his late father's obsession with flying machines. It is a memory and a moment of quiet the brothers can share. Despite the lack of communication, their bond is clear. They love and rely on each other more than Jacek seems to realise. They are the only family each other has, after all. In rare glimpses of genius, Tomek draws a strikingly accurate portrait on his bedroom wall or plays a haunting piece of music on the piano. People stop and stare at him, finally for all the right reasons.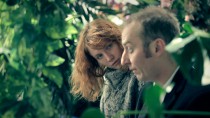 The irony is, whilst Tomek is the one with autism, all the people he encounters have their own idiosyncrasies that may appear strange to an outsider. His own brother collects hundreds on Kinder Surprise toys and won't allow them to be moved out of sequence and checks the door is locked precisely three times each time he leaves his flat. Their neighbour, Magda, finds herself hyper-sensitive to the lights and sounds of city life. She locks herself in her wardrobe to smoke weed and escape from the everyday. A prospective job opportunity means Jacek is forced to leave is brother under the watch of the suicidal Magda (Magdalena Rózanska). From then on, the pair form a beautiful friendship. They give each other peace and comfort. She and Tomek imagine a world of lush green foliage, bright orange butterflies and soothing sounds; a marked contrast to the harsh and overwhelming reality of the estate they live in. They are happy there because there is nobody to stare at them, call them odd or offer to cure their behaviour.
The idea of not knowing what goes on behind your neighbour's door is very prominent throughout the film. No one realises the extent of Magda's depression until she attempts to take her own life. Nor do they see that the sarcastic and rude Mrs Kwiatkowska's comments stem from her struggle to maintain a relationship with her alcoholic son. In one poignant scene, Magda and Tomek use a telescope to spy on the nearest apartment block. In the background, a nature programme on the television documents animals mating, viciously fighting or nesting with young children. Slowly, the camera pans over the apartment windows – each like a little private television screen – as the inhabitants echo the behaviour of the animals. A couple have sex, a husband beats his wife, and a family cuddle up on the sofa. It reduces their behaviour to animal instinct whilst acknowledging the basic human instincts for companionship, security and tactile contact with another. It also throws up the question of normality. Yes, this unlikely pairing seem locked in their own worlds and, therefore, not normal by conventional standards. But how normal is it to be subjected to acts of violence within your own home? It is a really beautiful and interesting moment as Magda and Tomek stand and ponder the lives of others, knowing that their reality will never resemble what they see before them.
Kox creates this tiny little slice of reality, with all its curious and mysterious inhabitants, and calls us to offer them the love and compassion denied to them within the world of the film. It is a provocative prod in the chest. Should we be more concerned with the loneliness of others? Are we lonely? The film raises so many questions and provides almost nothing in the way of answers. Should we reach out to the lonely old neighbour, smile at the girl who always looks sad, offer respite to a carer? Because, as the old song goes, no one knows what goes on behind closed doors.
Latest posts by Mary Palmer
(see all)