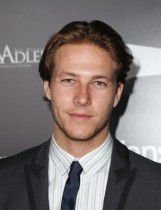 Alcon, the company behind the Point Break remake  has announced the appointment of its principal cast. After the updated production news  announced just before the new year, the actors playing the two lead roles have now been confirmed. As previously reported in early January, filling the role of Bodhi is the Scottish actor Gerard Butler. The role of Johnny Utah, made famous by Keanu Reeves,  will be played by the young Australian actor  Luke Bracey. 
Bracey is an up and coming actor with Australian Tv credits and only a few Hollywood films behind him. He is best known for the role of Cobra Commander in the 2013 film G.I Joe: Retaliation.  It will be interesting to see what the reaction to announcement is over the next few weeks. Casting a relatively unknown actor can be viewed in a couple of ways. One, it is cheaper to hire an actor who will not make massive wage demands which takes funding away from the overall budget. Two, it reduces the expectations. If the film is good it is a pleasant surprise. If it sucks then the film makers have minimised the damage. Lets face it, people will go to see it based on the name alone and like it or not there is a Gerard Butler fan base out there somewhere!
Principal photography for the film is scheduled for summer 2014.
Latest posts by John McArthur
(see all)