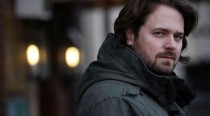 Falling under the well-worn movie category of Dear Lord, why oh why!! comes the news that Michael Bay and his production company Platinum Dunes,  have decided to remake another classic of the silver screen. Not content with butchering some of the best of the eighties horror movies the company have announced they will be remaking the Alfred Hitchcock film The Birds.
The company have signed up dutch director Diederik Van Rooijen to bring the project to fruition. There are no cast or storyline details released to date but given the track record of all involved it can be safely assumed that the premise of the original movie will still be in place. For those unfamiliar with the Hitchcock version, the film is the tale of a woman who moves from San Francisco to a small northern Californian town to be near her boyfriend. While there an increasing number of vicious bird attacks are inflicted on the local population and the incoming woman.
There is no scheduled start date for production so there is still hope that this will never see the light of day.
Editor-in-Chief at Moviescramble. A Fan of all things cinematic with a love of Film Noir, Sci-Fi and Julia Roberts in Notting Hill. He hopes to grow up some day.
Latest posts by John McArthur (see all)