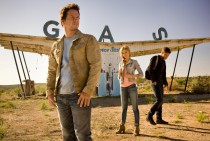 The stakes for the new Transformers movie could not be higher. The third film in the franchise was a commercial success, but it received a critical mauling across the board. The main issue was that the film just didn't hang together at all. For a film that was full of action set pieces most people did not have a clue as to what was happening from one moment to the next.
The latest trailer for Transformers: Age of Extinction has just been released. It certainly looks the part. You just have to give it to Michael Bay he does know how to put together an impressive teaser for a movie. Bear in mind that the previous robots hitting robots films had equally interesting promotional material. In a welcome change of pace in the lead female, Nicola Peltz, does not look as if she has stepped out of an underwear catalogue. Mark Wahlberg takes on the principal lead role after Shia LaBeouf passed on returning to the franchise.
Transformers: Age Of Extinction is in cinemas on the 27th of June in the US and the 10th of July in the UK.
Editor-in-Chief at Moviescramble. A Fan of all things cinematic with a love of Film Noir, Sci-Fi and Julia Roberts in Notting Hill. He hopes to grow up some day.
Latest posts by John McArthur (see all)