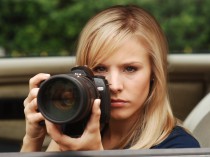 The Veronica Mars movie has seen some very clever marketing before a single frame of footage was shot. A highly publicised crowd funding campaign on kickstarter raised over $5.7 million which persuaded Warner Bros Studios, who own the rights, that a movie of the cult TV show would be a viable and possibly profitable product. To keep the buzz going several behind the scenes features and a trailer giving a flavour of the plot was produced.
With just over a week until the cinema release the studio's publicity department has done it's job again with the online release of the first three minutes of the film. This works effectively in a couple of ways. On one level it acts like an additional trailer for the film. On another level, detail from the first three minutes is in fact a used as a catch up so the audience, fans or not, will be able to get up to speed with Veronica's back story. Very slick as nothing is given away plot wise and a bit of a bonus for the fans of the series and its star Kristen Bell.
Editor-in-Chief at Moviescramble. A Fan of all things cinematic with a love of Film Noir, Sci-Fi and Julia Roberts in Notting Hill. He hopes to grow up some day.
Latest posts by John McArthur (see all)