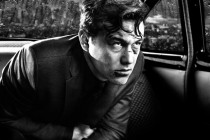 It has been long overdue. The first trailer for Sin City: A Dame To Kill For has been released online. The film has had a rough passage from page to screen. It was originally penciled in for a 2013 release only for that to be put back a whole year.
The movie shares the same principle driving force behind it in the form of Frank Millar and Robert Rodriguez. As would be expected the film has the exact same noirish, comic book look which to my eyes looks amazing. There is a wealth of talent on the screen with the majority of the cast of the first film and notable additions in the form of Joseph Gordon-Levitt, Josh Brolin and Eva Green as the dame in the title.
What will be noteworthy is the audience reaction to the film finally making it into theaters. The original film attained something of a cult status but as we have seen recently with Anchorman this can raise expectations to an unrealistic level and lead to the new film not garnering the same level of word of mouth publicity.
Sin City: A Dame To Kill For is released on the 22nd of August.
Latest posts by John McArthur
(see all)