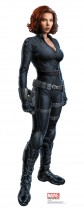 Marvel UK has released a nice featurette which focusses on the character of Black Widow. Up until now the character as portrayed by Scarlett Johansson has taken a secondary role in the building of the Avengers universe. Now with phase two well under way the character is being developed more with a view to at some point give her a standalone movie.
The featurette gives an insight into the character and just how important she is for Captain America and by extension SHIELD and the extended Marvel universe. I have always thought that Black Widow was one of the more interesting side characters and probably the one that would make the transition from supporting role to carry a movie.  The continuing adventure of Captain America looks to bring the character more to the front as part of the Avengers team. He was not the most dominant character in that movie, but the seeds were sown for him to develop and grow into a team leader.
Captain America: The Winter Soldier is out on the 28th of March.
Latest posts by John McArthur
(see all)