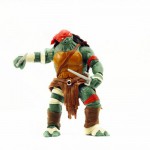 Concept art for the upcoming reboot of Teenage Mutant Ninja Turtles hit the internet earlier this year. Not that Michael Bay was happy with the leak as the images were taken down as quickly as they went up.
The action figures by AC Toys reveal little more than what we've already seen but they still give a good idea of what to expect. There is definitely a more urban look which will no doubt lead to a grittier take on the heroes in a half shell.
Leonardo and Raphael stand out as looking positively ripped. It makes us wonder what's flushed down the toilets these days?

Donatello looks like a Ghostbuster while Michelangelo's leather trousers are a cause for concern.
While they do give a clear indication of what to expect it must be remembered that they are only toys. It would be harsh to judge the film on an action figure, and for what it's worth I like the style they're going for.
Produced by Michael Bay, Teenage Mutant Ninja Turtles has a release date for August 8th 2014. The film will star Megan Fox as April O'Neil, William Fichtner as Shredder, Pete Ploszek as Leonardo, Alan Ritchson as Raphael, Jeremy Howard as Donatello, Noel Fisher as Michelangelo, Will Arnett as Venon Fenwick, and Whoopi Goldberg as Bernadette Thompson.
More images can be found on the link below.
Source: AC Toys
Latest posts by Thomas Simpson
(see all)