And so we return once again to the world of Wes Anderson and everything we have come to love and admire in his films. And yes, once again that includes Bill Murray.
This is a tale that deals with the exploits of a hotel concierge, M Gustave. Much loved by the guests and staff of the hotel, he is the quintessential ladies' man, or rather old ladies man. The key old lady in question is played by Tilda Swinton, returning to the fold after a scene stealing performing as the aptly named Social Services in Anderson's previous film 2012's Moonrise Kingdom.
Swinton's Madame Celine Villeneuve Desgoffe and Taxis, a.k.a. Madame D is found murdered which sets into motion a freewheeling series of events including cross country skiing, a trip to a monastery, the theft of a painting and a prison break. All of this is set to a backdrop of 1930's political upheaval in the heart of Eastern Europe. The threat of war is never far away and the film does a good job of portraying an age of extravagance set before the harshness of future events took hold. The tone of the film features numerous references to sex and violence which seem at odds with the whimsical nature of Gustave's adventures but give hints to a more turbulent time.
After seven films, Anderson certainly knows his audience and throws many references into the mix which will delight and alternatively confuse such as departed pets, missing fingers and handmade automation. Indeed the cast pays service to previous features and includes many recurring turns which add to the feel of a 1970's style caper. At times it feels more like an extended list of cameos rather than a collective cast and it's left to the newer turns by Fiennes, Saoirse Ronan and newcomer Tony Revolori to provide the more substantial performances. Fiennes is a revelation and revels in the chance to add broad comedy to his range, while Ronan continues to impress with her steady stream of performances. As Zero, the hotel's lobby boy, Revolori fills in nicely in an understated role which the entire film reveals itself to have hung on.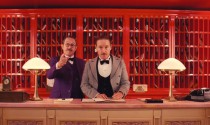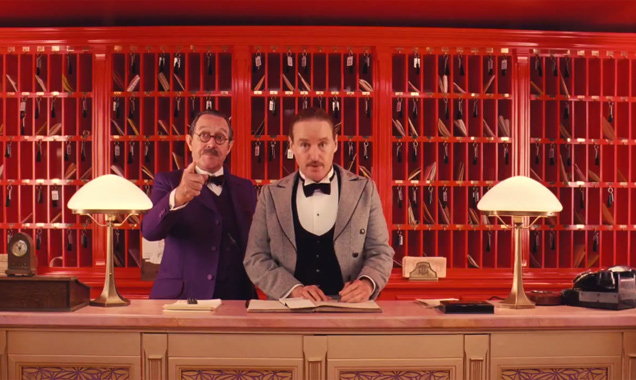 One of the main successes of the film is a continuing Anderson trait to include the setting of his film as a contributing character. In the way we have seen the Tennebaum's house in The Royal Tennebaums, Steve Zissou's submarine in The Life Aquatic and Mr Fox's den in Fantastic Mr Fox, we now have The Grand Budapest Hotel. It's important to note the descriptive tense of the title as we see how a once proud institution has fallen into a state of disarray. To say anymore at this point would do a disservice to the plot but the attention to detail in the most recent setting is breath-taking and brings to mind the reversed exuberance of Kubrick's Overlook hotel.
The Grand Budapest Hotel is a film that sees Wes Anderson move fully into the realms of the caper film. While Anderson's previous films have certainly found plenty of room for episodic comedic tales, they have always been tempered with a more sombre character base. Here we never get fully under the skin of Ralph Fiennes's M. Gustave H. We are introduced to a loveable rogue, as we see him charm and entertain the residents as much for their benefits as his it appears. But through numerous adventures throughout the film there is never a sense of anything deeper. At times, the plot feels arbitrary to the general rush of the film and this is highlighted in an ending which feels inconsequential in terms of the fates of the numerous characters.
This is perhaps the reason that it's only a good (at times great, though certainly not grand) Wes Anderson film. It may be true that it will fully reveal itself in numerous replays like the rest of his films. It's hard to think of another director who has stuck so steadfastly to type and this film definitely fits nicely into his canon. There is certainly enough detail at hand, but on first viewing it seems to be lacking in having the perfect mix of frivolity and melancholy which draws you back for repeat viewings. Though there is much to enjoy here, the sadness at the heart of characters like Royal Tennebaum and Steve Zissou is lacking and the absence is certainly felt.

Latest posts by David Brogan
(see all)