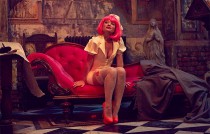 For the majority of film makers today the biggest obstacle to getting their projects made is money. It does not matter how good the story is and, in most cases, who is attached. It all comes down to support. It has become something of an art form in recent years for producers to obtain funding via any number of schemes and options. One film maker who has struggled with financing and to a lesser degree a lot of bad luck is Terry Gilliam. If you are sitting in a cinema and see the words 'A Film By Terry Gilliam' pop up, you know that there will be a back story of struggle and tenacity associated with the production. It gladdened the heart to see those words appear for his new film The Zero Theorem.
Constantly sat at his computer, working, Qohen (Christoph Waltz) is a troubled man. Never able to enjoy his life, Qohen is constantly waiting for a phone call, which he believes, will describe the purpose of his sorry life. He received one as a young man but did not respond to the caller on the line. A decision he has regretted ever since. He works away at his seemingly pointless job in his brightly lit and noisy cubicle. He pleads with his supervisor (David Thewliss) to be in a position to work from home and eventually after a meeting at a party with the management (Matt Damon) his wish is granted. At home, he is given a special project named The Zero Theorem. This is a programme, once complete, that will prove that everything eventually adds up to nothing. The project has broken all who have tried before and Qohen has to concentrate all his energies to accomplish his destiny. Into the mix comes Bainsley (Melanie Thierry) a look, don't touch, sex worker who is proving to be the distraction that he doesn't need.
If there is one thing that Terry Gilliam excels at it is world building. In a relatively short time span with minimal exposition, he is able to convey the rules and the landscape of the world. Qohen's world is almost an alien environment to him. The people are the embodiment of the futuristic consumer society. Bright angular hair styles, high fashion clothes and a constant need to be able to plug in to the net informs the society in general. Qoran is the opposite. He prefers his own company. He does not have any hair as a consequence of his constant worrying. If he is not naked, he is dressed completely in black. The city of London is his enemy. He is living in a converted church. A nod to the fall of established religions and the rise of online culture as a replacement. The city is a mirror of the people who inhabit it. A mix of the garish and loud countered with squalor and ruin.
Christoph Waltz takes on the lead role with gusto. In the part, he is able to step away from his screen persona of recent years. Gone is the sharp witty anti heroes of the recent Tarantino films. Here he is a mumbling, neurotic who abhors the touch and attention of other human beings. Waltz displays some very nice comic timing and takes full advantage of the lighter moments in the film.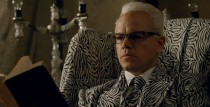 The supporting cast allows Waltz the space he requires to flesh out his performance. His minimal actions are countered by a succession of larger than life characters, each more desperate than the last. David Thewliss is the perfect counterpoint as Qohen's line manager, Joby. He comes through like a lost Monty Python character and is excellent. Lucas Hedges plays the part of Bob a wise cracking American teen with his own demons to exorcise. He feels a little like a plot device rather than a character in his own right, but it is still an interesting element of the film. Matt Damon pops up a couple of times in a superb cameo role. His performance as the management steals the scenes he is featured in.
The film addresses several themes that inform the way we live today. Qohen is the living image of loneliness in the digital age. As a people we have never been more informed, educated and entertained but the ability to connect with others has become a dying art. Online sexual activity is touched on with the character of Bainsley. Her mantra is look but don't touch. A prescient comment on the availability of pseudo relationships found on the web.
Beneath the visuals, there are a solid story and screenplay. Gilliam has understood for a long time that a film is virtually worthless if the basics of plot and story are missing. He creates rich and well rounded characters that can be easily related to. The film comes across like a warning for the future. It is just like a dark vision of the future taken to the nth degree. Materialistic desires and the fulfillment of every desire are at the heart of what people are now aspiring to. Gilliam shows an outcome of what could happen if we get what we want.
Overall a welcome return from a master of left field cinema with an intriguing and entertaining film. Highly recommended.
Latest posts by John McArthur
(see all)