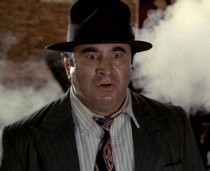 It with great sadness that we note the passing of the outstanding British actor Bob Hoskins. In a career that spanned fifty years, he was regarded as one of the most interesting actors around. His career started in television drama where he honed his craft and established his credentials as a solid acting talent. Hoskins got his break in film  in 1980 when he was cast in the lead role of Harold Shand in the seminal British gangster film The Long Good Friday.
He went on to appear in several UK films until Hollywood beckoned. He was a revelation in Who Framed Roger Rabbit? where he played it strictly for laughs. The success of this film led to a variety of roles that included portraying such diverse characters as Krushchev,  Pope John XXIII, J Edgar Hoover and Super Mario.
He had a unique way of choosing the parts he was considering. He would take the scripts and read them while on the toilet. If his bum went numb as he got more engrossed in the work then the script was deemed a winner.
Latest posts by John McArthur
(see all)