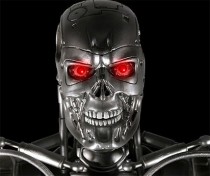 Paramount Pictures and Skydance productions have announced that former Doctor Who actor Matt Smith will be part of the cast of the forthcoming Terminator Reboot. According to the press release he will be playing the part of a new character with a strong connection to John Connor.
The new reboot will hope to reverse the damage done to the franchise by the less than stellar critical and commercial performance of the Christian Bale starring Terminator: Salvation. Alongside Smith, the new film will feature Arnold Schwarzenegger, Jason Clarke, Emilia Clarke, Jai Courtney and  J.K. Simmons. The film is set for a release date of  the 1st of July 2015.
Editor-in-Chief at Moviescramble. A Fan of all things cinematic with a love of Film Noir, Sci-Fi and Julia Roberts in Notting Hill. He hopes to grow up some day.
Latest posts by John McArthur (see all)