With the new releases for May 2014 lined up, cinema-goers across the country can look forward many highlights including the return of a classic movie monster, a double helping of X-Men, and the reintroduction of an old Disney villainess. The summer season starts here but before the big hitters arrive, spare some time for something a little out of the ordinary.
Frank
While not largely known for his work outside his native Ireland, Lenny Abrahamson's Frank will surely take his work to a wider audience. Frank is loosely based, at least visually, on Timperley's own Frank Sidebottom the much loved post-punk comedic persona of Chris Sievey. Michael Fassbender plays the title character who fronts a band while wearing a large paper-mache head. Based on Jon Ronson's autobiographical book of his time playing keyboards in the Frank Sidebottom's band in the early 1980s, the film is said to take inspiration from such artists as Daniel Johnston and Captain Beefheart, Frank looks like being an interesting diversion from the more mainstream fare to come later in the month and will hopefully keep the flame alight for the memory in the much missed Sidebottom. No word yet on whether Little Frank will make an appearance but here's hoping.
Godzilla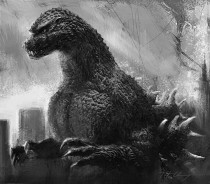 Gareth Edwards jumps to the big league following his debut feature 2010's Monsters with the latest reincarnation of the legendary Japanese monster. The impressive cast features the likes of Bryan Cranston, Aaron Tayor-Johnston and Elizabeth Olsen, but the major selling point will hopefully see Edwards being able to continue the emotional tone that anchored Monsters. Guillermo del Toro proved that there is an audience for revamped creature features in last year's Pacific Rim, and hopefully it's been long enough since Roland Emmerich's 1998 version. Thankfully Jamiroquai have been relieved of soundtrack duties this time round, though it remains to be seen (or heard) whether Akira Ifukube's classic "Gojira Tai Mosura" will usher in the titular monster.
X-Men: Days of Future Past
The popularity of superhero films doesn't look like ending anytime soon, and this promises to be arguably the most ambitious endeavour yet. Not only will this be a complete adaptation of the classic 1981 comic by Chris Claremont and John Byrne, but the plot sees the X-Men ensemble fight a war for the survival of the species across two time periods bringing the stars from the Bryan Singer's original X-Men film trilogy together with their younger selves from Matthew Vaughn's 2011 X-Men: First Class. This is a battle in which they must change the past… to save their future. Now there is a tag-line!
What is impressive about the intention of Days of Future Past is that it is a venture which aims to treat cinema viewers with the respect earned by comic readers. Since Christopher Reeve brought Superman to the masses in 1978, we have seen numerous origin stories from DC and Marvel favourites, but never actual filmed versions of celebrated works in print. The vast universe of characters and story lines explored in the comic world by far dwarves the ambition of the cinematic counterparts and it's a wonder that this has never been properly used before Days of Future Past.
Matthew Vaughn brought fresh life to the series following the damp squib of Brett Ratnor's The Last Stand in 2006. One worry is that Singer may struggle to juggle all the cast members, reports of Anna Paquin's and Halle Berry's role being reduced to mere cameos does not bode well. However, the sheer novelty of seeing actors divided in the dual roles should encourage an extremely healthy return when the film opens, with the mechanics of the plot hopefully bringing much needed critical success at a time where there has perhaps been a sense of overkill with the Marvel franchises.
Maleficent
The success of recent reversed fairy-tale films such as Snow White and The Huntsman, and Oz the Great and Powerful leads us to Disney's Maleficent, a reworking of Sleeping Beauty from the perspective of the antagonist, the Mistress of all Evil Maleficent. The casting of Angelina Jolie brings to the film the star wattage only earned by a hand-full of current actors, and her absence in recent years has only wetted the appetite of film audiences to see her in mainstream fare. The cast is filled out by the likes of Sharlito Copley, Elle Fanning and the eagerly awaited new Dr Who, Peter Capaldi. Directed by Robert Stromberg, it remains to be seen whether the darker tones of the original tome will surface in what is ultimately still a Disney summer release, but this looks certain to one of the bigger successes of the summer.
Edge of Tomorrow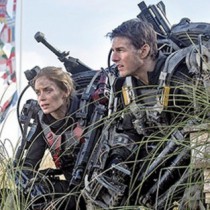 For Tom Cruise fans, Edge of Tomorrow offers the excitement of an explosive cross between Groundhog Day and Starship Troopers. For non-Tom Cruise fans, well he dies in this. A lot, as it's the premise of the film which sees Cruise play a soldier caught in a time-loop which sees him die again and again but which also holds the key to winning the war against marauding aliens. Cruise impressed in last year's Oblivion and he returns to the sci-fi genre here in Doug Liman's adaptation of the Hiroshi Sakurazaka novel 'All You Need Is Kill'. Emily Blunt helps out in the '20 year younger than Tom Cruise romantic interest' role, while in supporting roles Bill Paxton and Jeremy Piven are sure to entertain as a pair of military generals. All in all, it appears to be a mixed bag as everyone involved has certainly made outstanding work before though not perhaps in recent times, so this one comes with plenty of promise but you know, don't expect too much, it could end up being Looper 2.
A Million Ways to Die in the West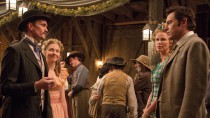 Before the release of Seth McFarlane's directorial debut Ted in 2012, you would have got long odds on it not only leading him to receiving an Oscar nomination but also hosting the event. Combining a talking teddy bear, a million stoner jokes and a love of Flash Gordon also led to a return of around £250,000,000 worldwide so it's no surprise to see him return to the big screen both as director and now as actor with A Million Ways To Die in the West. This time around we see McFarlane as Albert, a sheep farmer in Arizona, 1882 who has to fight to survive the wild times around him, with hilarious results. The cast features Charlize Theron, Liam Neeson and Amanda Seyfried who will no doubt have to face up to McFarlane's usual brand of taboo breaking humour.

Latest posts by David Brogan
(see all)