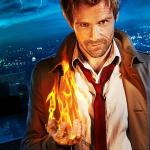 Hellblazer fans weren't exactly enamoured when their chain smoking anti-hero, John Constantine, made his big screen debut in 2005's Constantine. The issue for many was Keanu Reeves; the blackhaired American who was cast as the blond Englishman. It was a slight many found hard to forgive of Francis Lawrence's greatly underrated film especially given that the character was also American in the script. Anyone that heard Reeves' English accent in Bram Stoker's Dracula may have considered that a small mercy.

Despite much speculation a sequel never surfaced. Now NBC have rolled the dice and brought Constantine to the small screen in a series of the same name. And in a move that will please many, he's English, has blond hair and keeps his trademark trenchcoat, last seen worn by Castiel in Supernatural (a homage by Eric Kripke).
Welshman Matt Ryan (Criminal Minds)takes over from Reeves as David Goyer (The Dark Knight) doubles up on writing and producing duties. Neil Marshall (Game of Thrones) has directed the pilot which has been given it's first trailer, a trailer which should appease fanboys some.
Watch NBC's Costantine below and please tell us your thoughts.
Latest posts by Thomas Simpson
(see all)