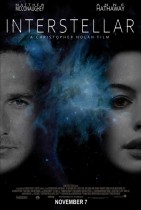 The wait is over. After the initial teaser trailer issued in December last year, the first full trailer for the forthcoming Christopher Nolan film, Interstellar is now online. The film is Nolan's first venture on the big screen since The Dark Knight Rises in 2012 and to say it is highly anticipated is a bit of an understatement.
The trailer provides us with a lot more in terms of the plot and themes of the film without going into too much detail. It looks intriguing. Information up to this point has been limited with more wild speculation rather than actual information. We have come to expect a well put together trailer for Nolan's film that builds anticipation and leaves you wanting to know more. The campaign for Inception was a case in point and it looks like Interstellar is following the same plan.
The film features Matthew McConaughey, currently the hottest actor in Hollywood, in the lead role with support from Jessica Chastain, Anne Hathaway and Michael Caine.
Interstellar will be released on the 7th of November.
Latest posts by John McArthur
(see all)