As today would have marked the 106th birthday of much-loved onscreen hero, James Stewart, I decided to investigate him a bit further. A personal hero of mine, I realised I knew barely anything about the man himself. I've always associated him with Christmas and happy memories. For years, I was led to believe that James Stewart was a vociferous patriot and family man. Throughout his lengthy career he garnered a reputation for being shy, humble, honest, a man-of-the-people; the underdog. He married only once, to Gloria McLean, at the slightly older age of 41. Yet, what most people do not seem to be aware of is that prior to his decision to settle down, Jimmy was something of a minx. He had a voracious appetite for women, and managed to seduce some of cinema's most desirable starlets.
"When it came to kissing, Harlow was the best." – James Stewart.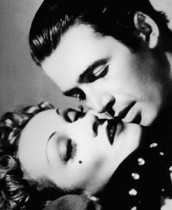 Stewart's career was both enduring and fruitful. Famed for his association with Alfred Hitchcock and his endearing, mild-mannered performances in films such as Mr Smith Goes to Washington, It's A Wonderful Life and Harvey, the architecture graduate from Indiana was and still is a celebrated star. His reputation was built on playing honest, hardworking men trying to do their best for family and society alike. Certainly, he did not seek fame nor did the public view him as a philanderer (as they did with Errol Flynn, Clark Gable or Henry Fonda). He publicly and proudly served his country in the Army Air Corps. It was this lifestyle that won Stewart a legion of adoring fans that preferred his strong morals to his playboy colleagues.
It is this gentlemanly public image makes the truth behind it seem so heart-breaking. As a lifelong Stewart fan, I wanted the characters he played on screen to be an extension of the reality. I willed the essence of George Bailey on to the man himself. To know otherwise would seem cruel; wrong, even. Whilst the bumbling beanpole with his 'aww shucks' Americana drawl may not seem the likely candidate for a legendary Hollywood lover, Stewart bedded and dated a string of women, a fact that left Gloria insecure throughout their marriage. The long list of women in Stewart's life is reported to have included Ginger Rodgers, Kim Novak, Olivia de Havilland, Marlene Dietrich, Martha Vickers, Grace Kelly and – no surprise here – Mae West. His The Shop Around the Corner co-star Margaret Sullavan is also said to be 'the one that got away'.
Whilst the public were not privy to his romantic dalliances, the studios certainly were. Jimmy had an eye for his co-stars, and this seemed to be common knowledge amongst directors and actors alike. Quite the contrast to the image he projected through his films. Like Rock Hudson's sexuality or Clark Gable's halitosis, Stewart was treated to the great Hollywood cover up when it came to his personal life.
It would seem that his appetite for the ladies came early on in his career, escalating with each passing picture. Indeed, during the filming of Destry Rides Again, the first of many Westerns for Stewart, he indulged in a steamy affair with his co-star, Marlene Dietrich. Their off-screen chemistry is evident in the film. The film's director, George Marshall, states that Stewart was most amorous in his pursuit of Dietrich. He recounts that, during one love scene Stewart became visibly aroused by his co-star, resulting in his having to call filming to a halt whilst "wagging his finger reproachfully" at the over-excited actor. The story continues to reveal that Orson Welles was forced to take Dietrich for an abortion after the randy Stewart "knocked her up". This is not the James Stewart that the public fell in love with. His films made him seem like an honest, naive man who awkwardly romanced the ladies in his life and treated them with respect. The studios heavily suggested that this persona extended into his personal life. Clearly, he was a better actor than most give him credit for.
Dietrich was far from the only female to succumb to her gangly co-star's charms. Stewart may not have possessed the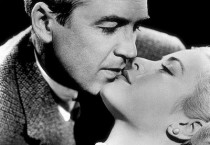 suave handsomeness of Cary Grant or the brooding manliness of Humphrey Bogart, but he nevertheless proved irresistible to the women around him. The shy, sweet character that Stewart often played ensured he was like "catnip" to the fairer sex. No one would have suspected his intentions to have been anything other than honourable. After all, this was the man who was supposed to have rejected the trappings of Hollywood to stay in a townhouse with his wife and daughters, the man who chose to serve his country in the military a week after winning an Oscar. Yet the gap between private life and public persona is devastating.
Arguably, some of his most famous and well-respected works were his collaborations with Alfred Hitchcock. Films such as Rear Window and Vertigo saw Stewart paired with alluring, glacial blondes. His wife Gloria is naturally said to have been threatened of such glamorous female stars, given her red-blooded husband's past. Her fears were not entirely misplaced. Having embarked on brief affairs with her previous two co-stars, Grace Kelly was also romantically involved with Stewart on the set of Rear Window. When asked about how it felt kissing his co-star, he is said to have declared, "Well I'm married, but I'm not dead!" Moreover, Hitchcock himself let it slip that Kim Novak had yielded to Stewart whilst filming Vertigo. Their electric on-screen chemistry and his characters' rampant pursuit of hers may well be a reflection of the reality. The pair continued their romance in Bell, Book and Candle, a film that Stewart himself admitted was poor and a waste of his talents. It would seem he was only drawn to it on the promise of being reunited with Novak.
Far from being the exception to the rule, Stewart was just as bad as many of his fellow actors when it came to dalliances with beautiful actresses. For some reason his discrepancies remained under wraps, even while he was a bachelor. I'm both disappointed and disheartened to think that the man behind such emotionally wrought and endearing performances was actually quite the playboy. Yet it is unlikely that revelations such as these will do anything to dent the saintly reputation of cinema's beloved Jimmy; the underdog made good.
Editor at Moviescramble. European cinema, grisly thrillers and show stopping musicals are my bag. Classic Hollywood Cinema is comfort food. Spare time is heavily dependent on a lot of pizza and power ballads.
Latest posts by Mary Palmer (see all)