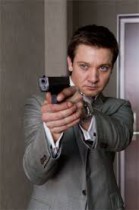 In a recent interview with Yahoo, Jeremy Renner confirmed, possibly by accident, that he will be reprising his role of William Brandt in the next installment of the phenomenally successful Mission Impossible franchise. He was fielding questions regarding taking a role in the forthcoming series of True Detective when he revealed his plans for the next couple of years. He is the third lead who is attached to the as yet un-named sequel to the 2012 film Ghost Protocol. Already confirmed are Simon Pegg and of course Tom Cruise.
As previously noted, the film will be directed by The Usual Suspects writer Christopher McQuarrie. Also rumoured to appear is the Oscar nominated actor Jessica Chastain in a significant role.
Mission Impossible Five is scheduled for release at Christmas 2015.
Latest posts by John McArthur
(see all)