Chances are that if you're reading this you've already seen the extended first trailer for NBC's Constantine. The latest offering doesn't add much in terms of plot and style but it does throw in a little tease.

Eagle eyed comic fans will notice a familiar looking helmet that looks suspiciously like the attire worn by Doctor Fate. The character is powered by the Helmet of Nabu, that when worn transforms the person into a powerful sorcerer. Nicknamed the Lord of Order, he could provide the Ying to Constantine's chaotic Yang.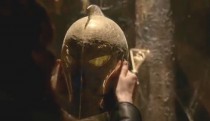 With CW already expanding it's own DC universe with Arrow and The Flash, there's potential for NBC to do the same. Guillermo del Toro previously expressed his desire to bring Justice League Dark to the big screen, could the Constantine TV show be a vehicle for an expanded DC universe?
Constantine premieres on October 24th later this year.
Latest posts by Thomas Simpson
(see all)