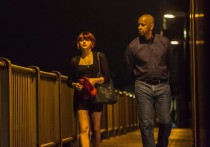 Another day, another remake. This time is the turn of the TV series The Equalizer which ran for four years in the nineteen eighties and starred Edward Woodward. The film remake stars Denzel Washington as Robert McCall a former Black Ops commando who is trying to leave his past behind him and settle into his retirement. Unfortunately circumstances forces him to start to use his old skill set to help people out.
The film is the latest from the director Antoine Fuqua, best known for the Oscar winning movie Training Day. If the trailer is anything to go by then there is a great deal of promise in the movie. Denzel is on top form and is ably supported by Chloe Grace Moretz and Marton Csokas.
The Equalizer will be released in the UK and the Us on the 26th of September.
Editor-in-Chief at Moviescramble. A Fan of all things cinematic with a love of Film Noir, Sci-Fi and Julia Roberts in Notting Hill. He hopes to grow up some day.
Latest posts by John McArthur (see all)