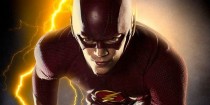 With the success of the TV reboot of the Green Arrow character in the CW series Arrow, the network is extending the DC universe a little bit further with the new drama series The Flash. The character of Barry Allen (Grant Gustin) was introduced during a two episode arc in the second series of Arrow and it was confirmed soon after that the spin off would receive a full season order of its own.
The CW network has a solid reputation for producing interesting long form dramas from DC characters having successfully handle both Smallville  and the aforementioned Arrow series. The trailer gives off a similar vibe to Arrow.  There is a recap of events from the two episodes before moving into the events following young Barry's accident. It looks interesting and there is a nice touch in the pilot episode where Barry's father, Henry,  is played by John Wesley Shipp, the actor who was The Flash in the short lived  TV series from 1990.
The Flash debuts on the seventh of October
Editor-in-Chief at Moviescramble. A Fan of all things cinematic with a love of Film Noir, Sci-Fi and Julia Roberts in Notting Hill. He hopes to grow up some day.
Latest posts by John McArthur (see all)