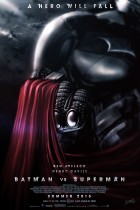 Not content with revealing how Gal Gadot will look as Wonder Woman, director Zack Snyder has went one better.
Lucky fans in attendance at this year's San Diego Comic Con have been treated to a teaser clip of Batman vs Superman: Dawn of Justice. This being the age of the internet, those around the world also get to enjoy it.
The quality of the leaked video isn't the greatest, but it does enough to leave this particular movie geek salivating at the mouth. It's a stormy bleak night, likely in Gotham city. Batman (Ben Affleck) shines the Batsignal into the rainy sky. The call is answered by Superman (Henry Cavill) as he floats down from the Heavens, eyes ablaze with fiery red. It's safe to say he looks pissed off about something.
The more I see of Ben Affleck's Batman the more I feel vindicated by the article I wrote defending the casting choice. OK, there's still a whole film to go before we can pass the final verdict however with the snippets that Snyder has been releasing, it's difficult to argue with the tone he has adopted. That it is reminiscent of Frank Miller shouldn't be too surprising considering Snyder's work on the film 300.
There's still much more to see (Jess Eisenberg's Lex Luthor for starters) and a whole plot to be revealed, but early signs are good. It's arguably the most hyped superhero film to date, let's hope it can live up to it.>We aren't going to link to the video – it is a leak after all – but if you want to see it, then it shouldn't be too hard to find on Google.
Latest posts by Thomas Simpson
(see all)