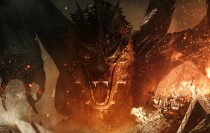 And so the end of the Hobbit saga is close at hand. The controversy and rather pointless moaning about the rather slim volume generating a trilogy of three-hour films is well behind us as we look forward to the conclusion of the Peter Jackson adaptation of the beloved J.R.R  Tolkien book.  Just unveiled at this year's San Diego Comic-Con is the first preview for The third film.
With the reworked title of The Hobbit: The Battle of the five Armies, the teaser trailer gives a good indication of the tone of the movie. The trailer itself looks stunning with the now familiar colour palate and an obsessive level of detail in every frame.  All of the familiar characters (who have survived so far) from the previous installments are back in action.  The prospect of another grand middle earth battle is definitely something to look forward to.
The Hobbit: The Battle Of The Five Armies is released world-wide on the 17th of December.
Editor-in-Chief at Moviescramble. A Fan of all things cinematic with a love of Film Noir, Sci-Fi and Julia Roberts in Notting Hill. He hopes to grow up some day.
Latest posts by John McArthur (see all)