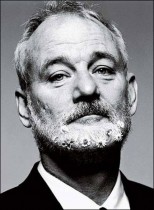 Disney pictures has announced that Bill Murray has joined the cast of the forthcoming live action / VFX film of The Jungle Book. The veteran actor and all round cool dude will provide the voice of Baloo the bear in the movie which will be directed by Jon Favreau. He joins a cast that features Scarlett Johansson as Kaa the snake, Christopher Walken as King Louie, Ben Kingsley  as Bagheera the panther and Idris Elba as the evil tiger, Shere Khan. 
Murray has a had a TV and movie career that has spanned over forty years. He is best known for his television work on Saturday Night Live which led to a movie career including Caddyshack, The Ghostbusters movies and Groundhog Day. Just as his movie appearances began to have a lesser impact (Space Jam, anyone!) he started working with Wes Anderson who promptly declared Murray as his muse. This raised Murray's profile once again and that the output of his later years was as varied and interesting as his early career.
The Jungle Book is scheduled for release on the 9th of October 2015. Just as a reminder here is a selection of the great man's work.
Latest posts by John McArthur
(see all)