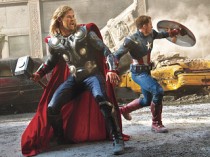 As part of the Marvel presentation in support of the forthcoming Guardians Of The Galaxy at this year's Comic-Con the company unveiled a five-minute video presentation that takes us through the first two phases of the Marvel cinematic universe which ends with the second Avengers film which will be released in May 2015.
What the short video emphasises  is the attention to detail in the development of the universe. Planning for the phases began back in 2005  with Iron Man marking the start of the big adventure in 2008. To say that it has been a success is an understatement. One of the best features of the films to date is the choice of director. Several of the movies have had more left field choices in the chair. Kenneth Branagh and  (at the time) Joss Whedon were unusual names to be attached to a superhero movie.
A big test for the enduring popularity will be the Ant Man movie which courted some negative press with the departure of Edgar Wright from the film so close to the production commencing. Given their past record the hope is that it will work out all right.
Latest posts by John McArthur
(see all)