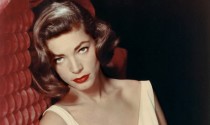 In what is turning out to be a an awful year for losing movie stars it has been announced that the actress Lauren Bacall has passed away at the age of eighty-nine. She is reported to have died of a stroke at her home and later confirmed by The Humphrey Bogart Estate twitter feed. Best remembered for her early film roles, she was rated as one of the most beautiful and sensual women ever to have graced the silver screen.
Bacall started out as a model and was spotted by the wife of Hollywood director Howard Hawks on the cover of Harper's Bazaar magazine. This led to her getting a leading role in To Have and Have Not opposite Humphrey Bogart. Their on-screen chemistry was an instant hit with audiences and more films swiftly followed in the shape of the classic noir movies The Big Sleep, Dark Passage and Key Largo. The chemistry was not only on the screen and the couple were married in 1945. After Bogart's death in nineteen fifty seven, Bacall split her time between movie roles and theatre work in New York city.  She continued to work well into her eighties in a series of supporting roles in films and television roles.
Here is a fine example of the chemistry in action.
Latest posts by John McArthur
(see all)