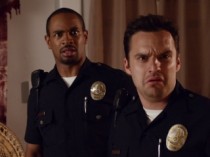 To be honest I went into the screening of Let's Be Cops with pretty low expectations. The buddy cop genre is so well established that most new variations on the them are just plain awful. With the surprise success of 21 Jump Street and its follow-up there was an obvious hole in the market for other film makers to exploit. Cue countless lesser variations with mixed results critically and commercially.  So I was somewhat surprised at just how much I enjoyed the movie.
Two friends are at the crossroads of their lives. They have turned thirty and have not achieved anything like their goals.  Ryan (Jake Johnson) is a former college football star who was injured before he could fully realise his talent. His best friend Justin (Damon Wayans Jr) is a games designer who isn't exactly getting the respect he thinks he is due. His latest idea for a game is called Patrolman, a GTA style game with the police as the central characters. His pitch for the game goes horribly wrong and he is left in a deep depression and two left over police uniforms to remind him of his failure. Ryan persuades Justin to go to a college reunion fancy dress party. After this goes wrong the pair are on the verge of quitting LA for good when they notice that people are taking notice of them and treating them in a different way due to the uniforms. Ryan comes up with the idea that they should pretend to be police officers. What could possibly go wrong, especially when the first people they tackle as police officers are Russian mobsters?
There are several reasons why this film works. The writing and direction from Luke Greenfield are totally spot on. The film is well paced with the action and character development mixed well to allow the audience to empathise with the leads and engage in the story. The dialogue is full of comedic touches and humorous characters. It is essential for a comedy to be funny. I know this sounds obvious but so many miss the mark these days (looking at you Adam Sandler!).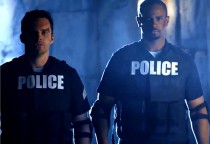 Having a good script and direction is all well and good but it has to be delivered on-screen by the talent. The two leads take this to a higher level with their interactions. They have previously worked together on the television comedy series New Girl. It shows that they are comfortable working together and their on-screen chemistry is instant and natural.  Both leads get the chance to show off their comedic talents and it is noticeable that at no point do they try to outdo each other. When one o them is going off on one the other is restrained and playing it low-key to allow the other to shine.
The comedic moments come thick and fast. There are several stereotypical cop moments such as the scene in the club where they 'perform' for a hen party. The highlight for me involved the attempted apprehension of a large naked man in a hardware store. These are only a couple of highlights in what was a well-balanced and fast paced movie.
Overall a surprisingly enjoyable, laugh out loud comedy. Recommended.
Latest posts by John McArthur
(see all)