September is a strange month for big releases as in there just isn't that many of them.  Most of the big budget films will by now be waiting for release nearer Christmas in order to maximise profits but that doesn't mean there isn't anything to look forward to this month.  A slew of indy films are set to hit cinemas in September, and some of them actually don't look too bad.  Here's a round up of what to look forward to this month.
Sex Tape
Jason Segal and Cameron
Diaz star in this comedy about a married couple looking to spice up their sex life by making a home movie of themselves.  Things get out of hand, however, when the video goes missing and the hapless couple, in order to save their dignity, do what they can to get it back.  From the same team that brought you Bad Teacher, Sex Tape looks to continue with the same kind of crude jokes and obnoxious humour, sprinkled with a little bit of romance for good measure.
Before I Go To Sleep

Due for release on the 5th September, this film stars Nicole Kidman as a young lady who wakes up every day remembering nothing, thanks to an accident in her past.  This is where the similarity to 50 First Dates ends as one day, new and terrifying truths emerge, forcing her to question everyone around her.  Expect a strong supporting role from Colin Firth in this thriller from Rowan Joffe, the man who also wrote the screenplay for 28 Weeks Later
Life Of Crime
Jennifer Anniston continues in her casting role as comedy heroine playing Mickey Dawson, the wife of a property developer who finds herself kidnapped by two criminals demanding a one million dollar ransom.  The problem is, her husband doesn't seem to be showing any interest in getting her back.  Fans of the eighties flick Ruthless People can be forgiven for noticing some striking similarities in this film with regards to the plot and, funnily enough, plans for this movie were scrapped in 1986 as being deemed to similar to the aforementioned film.  One redeeming feature it does have however, is that it was written by acclaimed author Elmore Leonard, the same guy who also wrote Get Shorty, Be Cool, Jackie Brow' and 3:10 to Yuma so on that basis, we're willing to give it the benefit of the doubt.
White Settlers

An English couple, tired of their yuppie lifestyle in London, move to a rural Scottish farmhouse to get away from the stressful rat race their lives have become.  Things seem idyllic at first but soon they are visited by some pig mask wearing marauders who have decided that this young couple just aren't welcome.  Although nothing groundbreaking in the genre, White Settlers does promise a fair amount of tension, jumps and a smattering of gore. Essential viewing to get you in the mood for the upcoming referendum.
All Cheerleaders Die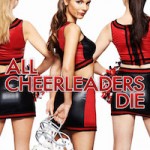 Never mind the naff title, this film does look to be a little gem unfortunately dangerously at risk of being overlooked.  Maddy (Caitlin Stasey), trains herself as a cheerleader in order to join the popular fraternity of the school, but not just to gain status, no, Maddy's motives are darker than that. More than just a high school revenge movie, directors Lucky McKee and Chris Silvertson have brought an element of the supernatural into this quirky but at times brutal horror.
The Boxtrolls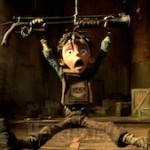 No monthly cinema rundown would be complete without the inevitable animated release and in The Boxtrolls we have what looks like another good one.  A young orphaned boy is raised by cave dwelling, trash collectors and, when they are faced with the threat of an exterminator trying to wipe them out it's up to him to try to save them. This stop motion animation is based on the book Here Be Monsters by Alan Snow and took around one and a half years to complete with a good day netting two seconds of footage, so with that level of dedication put into it, it's probably worthwhile checking it out.
In Order of Disappearance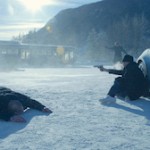 From Norway comes Hans Petter Moland's In Order of Disappearance, a deliciously black comedy crime caper that looks set to shock as much as have you laughing all the way through it.  Nils is a snow plough operator in Norway whose son gets murdered for something he didn't do.  As any father would, Nils sets out for revenge coming across a vegan gangster and a Serbian mafia boss along the way.  If you like your laughs on the darker side of humour, then this movie should be right up your street.
The Giver
Another book adaption to make it onto the big screen is Lois Lowry's The Giver, directed by and starring Jeff Bridges, this looks to be as thought provoking as it does entertaining.  Jonas (Brenton Thwaites) lives in a future where the human race has been brought to ruin and then reinvented itself into a bland existence of conformity and suppressed emotions.  He has been selected as the new Receiver of Memories and has the knowledge of humanities brutal past instilled into him. The more knowledge he gains, the more the world starts changing around him.
The Riot Club
Set in Oxford, The Riot Club is a fictionalised version of the Bullingdon Club and tells the story of a group of rich students getting together in ostentatious displays of indulgence and violence, secure in the knowledge their family will get them out of any trouble they get themselves into. A good yarn exploring the decadent ways of the young, spoilt and filthy rich members of our future elite.

Latest posts by Michael Mooney
(see all)