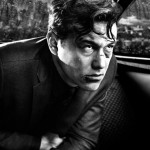 Stylish, sexy and insanely cool. That was my initial thoughts on Frank Miller's groundbreaking comic book series Sin City. Adapted to the big screen in 2005 by Robert Rodriguez, the film was so faithful to its source material, the director insisted Miller share the credits with him, going so far as to put the author's name above the title. The movie was met with critical acclaim and a tidy profit at the box office. A sequel was naturally green lit, however was soon confined to development hell for the better part of a decade. Nine years later Sin City: A Dame to Kill For gets its long anticipated release. In that time we've seen Christopher Nolan usher in a new grittier take on pop culture icons, with Marvel dominating the comic book landscape with their cinematic universe. Do the residents of Basin City still have any relevance in this new age?
Like it's predecessor, Sin City 2: A Dame to Kill For is episodic. In "A Dame to Kill For" Ava (Eva Green) seeks assistance from her old Boyfriend Dwight (Josh Brolin) as she looks to escape an abusive marriage. Joseph Gordon-Levitt stars in "The Long Bad Night" as he takes on Sin City's big evil, Senator Roarke (Powers Boothe) in a game of poker where the stakes are high. Jessica Alba returns as Nancy for "Nancy's Last Dance" where we find her struggling to cope with the death of Hartigan (Bruce Willis), her saviour and unrequited lover, while "Just Another Saturday Night" reintroduces us to our favourite homicidal ogre with a heart of gold, Marv (Mickey Rourke). It looks the same, it feels the same and it boasts a stellar cast. Why then did has it left me unsatisfied?
Gordon-Levitt and Green are perfectly cast in roles that are tailor made for them. Alba gets a chance to show that she can actually act, while Rourke reprises his role with Ease. Brolin is reliable as ever however his casting is where the issues start to arise. "A Dame to Kill For" takes place before Sin City's "The Big Fat Kill" where Dwight is played by Clive Owen, a killer on the run with a new face. Fans of the series will know that they're the same person, however the more casual filmgoer might not realise the significance of the link. It doesn't help that when Brolin's Dwight gets his new face, he still looks like Brolin only with a different haircut. Dennis Haysbert (Manute) and Jamie Chung (Miho) replace the late Michael Clarke Duncan and pregnant Devon Aoki, and again play the parts well. Their casting isn't part of a plot device and although King plays the part to perfection, she looks about ten years older than Aoki did nine years ago. Which would have made sense had the segment not been a prequel.
Sin City stories aren't meant to be chronological, which explains why dead characters can reappear later on. It doesn't, however, excuse plot holes, especially ones created by the adidtion of an original story written specifically for the film. I won't spoil anything here, but as the film went on I struggled to validate the inconsistencies to myself, leaving me confused and distracted from what was on screen.
Which is interesting, as what's on the screen is copious amounts of bloodshed with sex oozing from every other pore. It's stylish, but it lacks no substance. Strip away all the flair and you're left with stories that aren't good enough. "A Dame to Kill For" is strong, but it's bookended between tales that ought to have been better. Instead they lack any gratification or vindication. Although the first one didn't skimp on the R rated content, the sequel is overly gratuitous to the point that you feel the director is trying to make up for something that's lacking elsewhere. Though excessiveness has become somewhat of a trademark to Rodriguez's sequels, maybe we shouldn't be surprised.
It took almost a decade to see a new Sin City film, and judging by the box office figures we may be waiting a lot longer for a third installment to the trilogy. It's a series that could be revived however would be difficult to reboot due to the unique prediction and collaboration between Rodriguez and Miller. Eva Green may be a dame to kill for, unfortunately the film isn't anything to die for.
Senior Editor at Moviescramble. Writer, filmmaker, friendly neighbourhood storyteller. Believes Jaws to be the greatest film ever made and will go down swinging with that belief.
Latest posts by Thomas Simpson (see all)